Burleson, TX Christmas Parade
Posted by Taylor Cole on Thursday, December 2, 2021 at 11:02 AM
By Taylor Cole / December 2, 2021
Comment
Burleson, TX Christmas Parade, Tree Lighting, & Fireworks
December 4th is a busy day in Burleson, TX! From Breakfast with Santa to Christmas at the Library, to Burleson's annual Christmas Parade, Tree Lighting, & Fireworks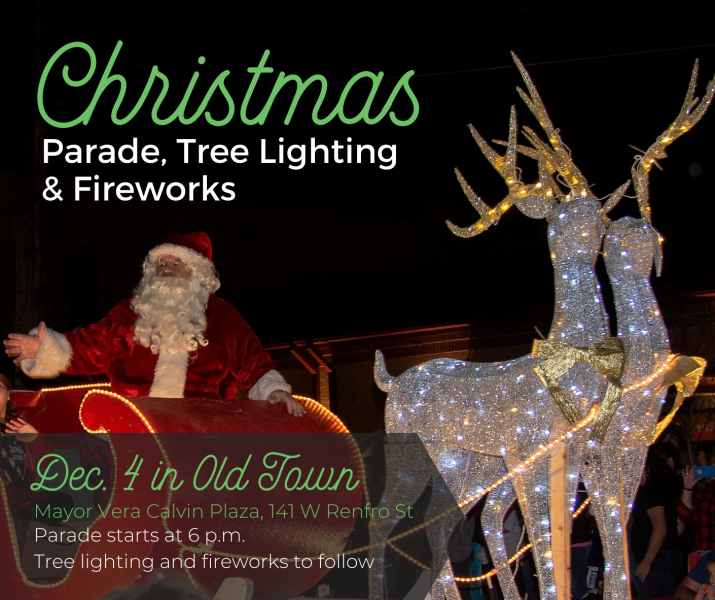 Time Details
6 PM: Parade of Lights
7 PM: Entertainment on the Mayor Vera Calvin Plaza stage
7:30 PM: Tree Lighting in the Mayor Vera Calvin Plaza
8:15 PM: Fireworks show on the corner of Ellison St. and Johnson Ave.
Location
Mayor Vera Calvin Plaza, 141 W Renfro St. Burleson, TX 76028
Cost
FREE
Event Details
The Burleson Rotary Club hosts the annual lighted Christmas parade followed by the City's tree lighting and fireworks show. The parade begins at 6 p.m., followed by the Tree Lighting at 7:30 p.m., and the big fireworks display will begin at 8:15 p.m. to close out the evening's festivities. Singers and dancers entertain the crowd while Santa breaks away from the parade and makes his way to the city stage. The Mayor Vera Calvin Plaza will dazzle with Christmas splendor when the 34-foot-tall Christmas tree, covered with more than 20,000 lights, is turned on by Santa and his helpers. The tree features an interactive Santa's cabin at the base, creating a perfect backdrop for festive Christmas photos. Make sure to stay and watch the holiday fireworks!
Parade Information
The Burleson Rotary Club presents the Christmas Parade of Lights at 6 p.m. The parade begins at the old Kerr Middle School and will end at Mayor Vera Calvin Plaza in Old Town.