Burleson TX Founders Day 2023
Posted by Tim Spears on Thursday, October 12, 2023 at 3:37:21 PM
By Tim Spears / October 12, 2023
Comment
Founder's Day in Burleson, TX
Are you ready for a day filled with exciting activities? Mark your calendars for October 14, because Founders Day is coming to Burleson, TX! This free, family-friendly event is one of the most anticipated celebrations of the year in this bustling city. You can expect a day packed full of fun activities, from historical re-enactments to live music, a car show, and even a kids' zone. Keep reading to learn more about what you can expect at Founders Day in Burleson, TX, and why you won't want to miss it!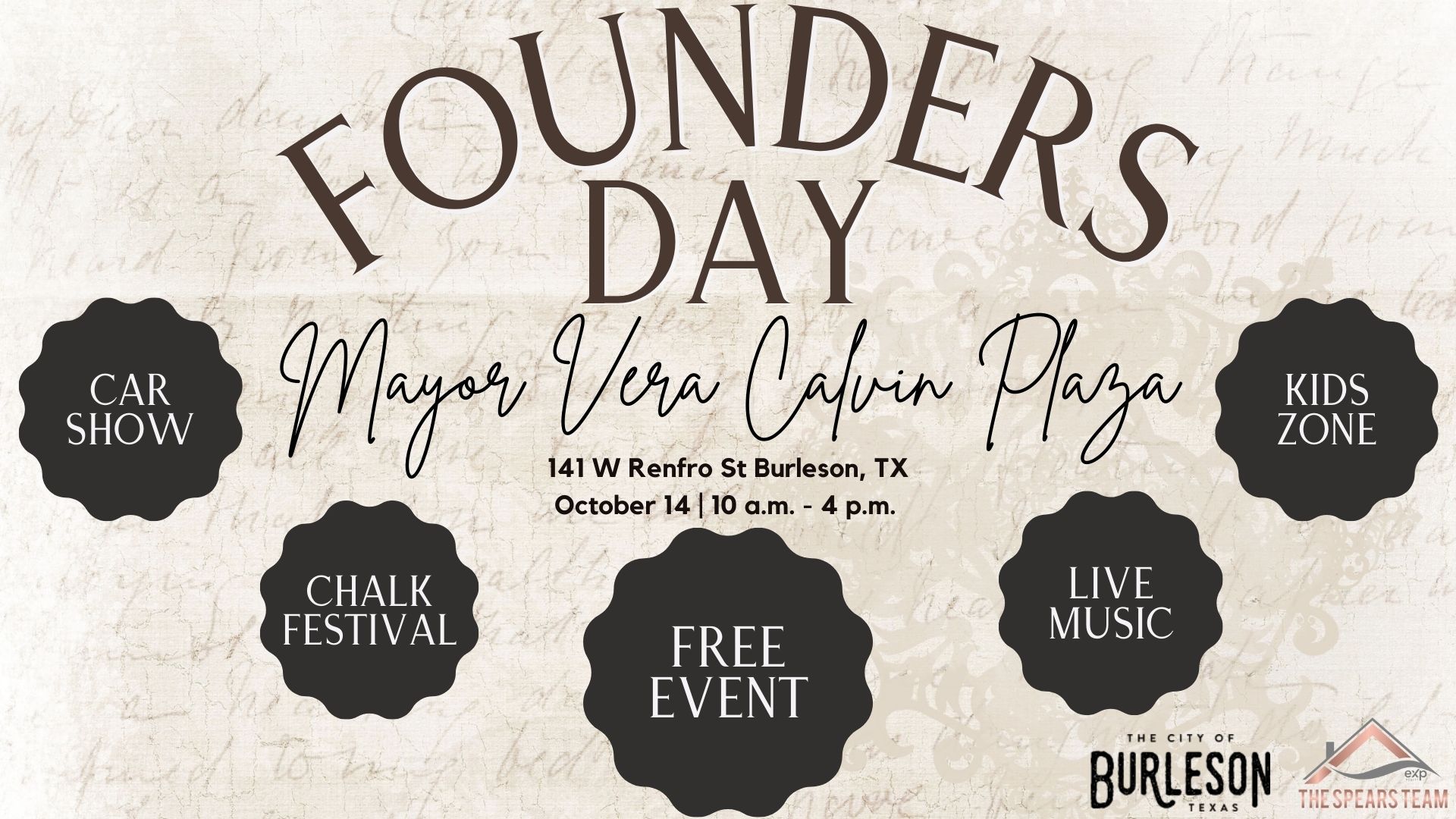 The event is hosted by the Burleson Heritage Foundation, a nonprofit organization committed to preserving and celebrating local history. With their partnership, Founders Day has become an event that the entire community looks forward to each year. The event takes place in the heart of the city, at Mayor Vera Calvin Plaza. This central location is perfect for exploring Burleson's surroundings, and you can't help but be impressed by its historical charm and contemporary vibrancy.
The day's schedule is packed with various events, so get ready to stay busy. Highlights include the costume parade kick-off, live music from the Turnpike Tributedours, a kids' zone, and a Chalk Festival. There are also two community performances scheduled throughout the day. If you're interested in history, don't miss the chance to experience a mock gunfight.
One of the most notable features of the Founders Day event is the vendor registration. Non-profit organizations, clubs, churches, and businesses can register as vendors to showcase their products and services. This means you can expect a bustling marketplace filled with all sorts of vendors. It's an excellent opportunity to find unique products and support local businesses.
The event also features a classic car show, a favorite among automobile enthusiasts of all ages. You'll see a collection of impressive hot rods, muscle cars, and vintage vehicles on display. Whether you're interested in admiring these pristine automobiles or chatting with other car lovers, the car show is always a hit.
Founders Day in Burleson, TX is the perfect way to celebrate the local heritage of this lively city. With a full day of activities, there is something for everyone, and the event is perfect for the whole family. Come and wander around the stalls, enjoy the music and food, and have a great time with the Burleson community. It's an event not to be missed, so make sure to mark your calendar and join in on the fun this October 14. We'll see you there!