How to Pick Kitchen Cabinet Hardware
Posted by Cassie Spears on Friday, June 4, 2021 at 3:17 PM
By Cassie Spears / June 4, 2021
Comment
The process of selecting hardware is so stressful to me because it felt like such a permanent decision. After all, you're drilling into your cabinetry. So I thought it would help anyone else in the same boat to share my tips on how to pick kitchen cabinet hardware!
How to Pick Kitchen Cabinet Hardware
I think of kitchen cabinet hardware as jewelry for the kitchen. Don't get me wrong, our cabinets are stunning on their own. But with hardware? Totally new level.
So let's dig into how to pick kitchen cabinet hardware and why each of these tips make sense:
Decide on a hardware finish.
I knew right away, that in my new home in burleson tx, I wanted brushed finished hardware, and I wanted them to be, that's right you guessed it… rose gold! Not only does it go with the style of our home, but it also matches the rest of our home's hardware.
Coordinate knobs and pulls (and know where to put them!)
Any kitchen will have a mix of cabinets and drawers, so it's all about selecting hardware that makes sense for each application. For example, you wouldn't put a cabinet knob on a drawer because then it would be too difficult to open! For interior design trends and laws, you must never put a knob on a drawer, you always want to use a cabinet handle when it comes to drawers.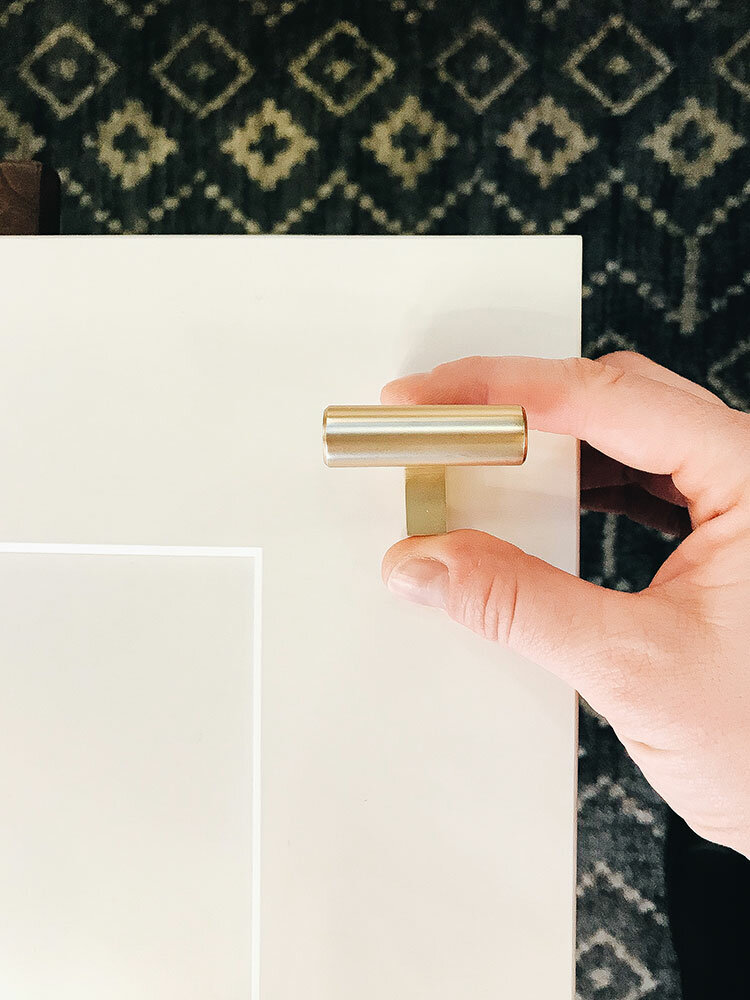 Scale is super-important.
Selecting the right scale of hardware is literally the most stressful part of this process! As a very visual person, I am so sensitive to proportion and scale.
To make the process easier, I literally brought a door front and drawer front to my local Home Depot store in Burleson TX. They have an amazing wall of hardware to look at, but I'm a bit more high-maintenance than that. After perusing the hardware options, I narrowed down my picks to a top 5 and then asked a sales associate to bring individual pieces out to place on the fronts. Then, I placed the various knobs, pulls, and hardware pieces on the fronts to judge the scale. This step was VITAL to me in feeling comfortable in placing my order and feeling totally confident in my selection.
Select a style that compliments your cabinet style.
We have Shaker-style cabinets, so hardware with clean, architectural lines made the most sense. If you opt for traditional style cabinets, pick pulls and knobs that are complimentary. I recommend this because it helps to ensure a cohesive look to your entire kitchen!
It's ok to mix metals, finishes, and materials!
Personally, I prefer to mix metals, materials, and finishes because the overall result is a more layered, curated, and designed look. Basically what I'm saying is that your kitchen will look more high-end! You'll see a mix of matte rose gold and antique brushed rose gold in our space when we reveal it.
When in doubt, keep it simple.
Sometimes the decision fatigue is real, you guys. There is nothing wrong with selecting a classic round knob and rectangular drawer pull! Some of the most gorgeous kitchens I've seen in our recent listings in Burleson, Joshua, Crowley, and all over Fort Wroth feature classic hardware and it's stunning.
Pick hardware that is comfortable in your hand.
At the end of the day, your kitchen hardware will need to be functional and comfortable in your hand. That's why a wall of hardware like at the Home Depot stores is SO key. You can really explore how the hardware feels in your hand. Nothing is worse than cooking and fumbling to open a drawer