Where to Begin With Home Buying?
Posted by Tim Spears on Wednesday, September 8, 2021 at 12:00 PM
By Tim Spears / September 8, 2021
Comment
What The Heck, Where Do I Start?
So, you're finally ready to buy a home but where the heck do you start? The process can be intimidating and overwhelming, but it doesn't have to be! There are 6 essential steps to the home buying process, and today we are going to break them down for a transparent and foolproof buying experience.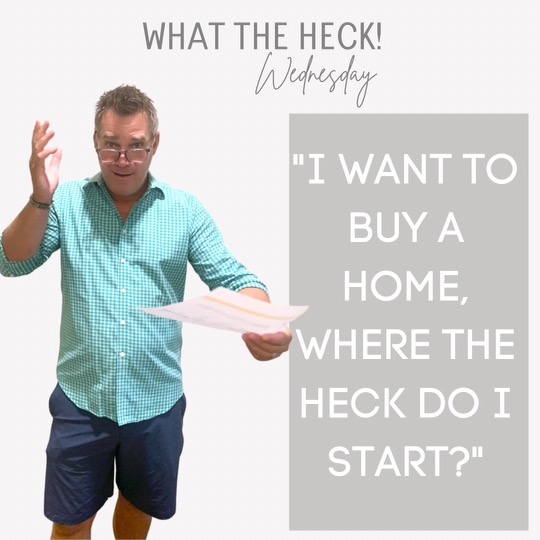 If you're like me, having a game plan and making a list is the key factor to success for anything that I do. Today we will be building your roadmap to success during your home buying experience.
So, where do you begin? Let's find out!
Step 1: Know your Financial Situation
If you haven't already, it's time to begin saving cash for your down payment. Cut out unnecessary expenses, whether it's eating out at restaurants less or cutting out those unused monthly subscriptions and memberships, those amounts of money begin to add up without even realizing it. Sit down and make a list of your monthly expenses and how much you spend, budget out those that don't belong, and cut back on those that may be excessive. This all ties into also knowing your credit score because there are so many different loan types for home buying, and they all come with different credit score requirements.
Step 2: Loan Pre-Approval & Loan Approval
We touched on this topic in last week's initial What The Heck Wednesday blog post, and we're going to sound like a broken record here but before beginning your search you NEED to get a loan pre-approval from your lender. This prevents you from getting your hopes up over homes that are out of your pre-approval price range and/or homes that specific loan types wouldn't qualify under. Pre-approval will also give you a written commitment from your lender and will make you more receptive to sellers. Next is loan approval, at this stage, your lender has looked over your financial situation and confirmed your ability to take on your mortgage payments.
Step 3: Find Your Agent (Us!)
Having an agent that knows your list of "must-haves" and "must-nots" will play a huge role during your home search. Having an agent that is educated and knowledgeable with the demographics of your desired area(s). This will eliminate the stress of not knowing where to start with your search since a realtor (our team) will be able to
Step 4: Make An Offer
Your agent (we) will help you determine the best price to offer on the home. You will most likely not be the only one bidding, so your offer will NEED to stand out. The best way to stand out when competing against multiple offers? Hire us to find that out!
Step 5: Home Inspection and Appraisal
Once you make an offer, you will begin the inspection period of buying a home. Getting a home inspection is optional but it is really encouraged in order to confirm that there are no hidden issues with the home you are about to purchase. Your appraisal will ensure that your future home is truly worth the price you are about to pay. There are waivers for appraisals that will be discussed later, but essentially with a waiver, you can sign off to completely opt-out of an appraisal or you can choose to only pay what the house appraises for. Stay tuned for a deeper dive into appraisals.
Step 6: Go To Closing and Move In!
Your loan is going through underwriting to be approved during the contract period. Once your loan is approved by your lender, you and your realtor will schedule a time for your closing at the title company agreed upon in your purchase contract. This is when you will sign all the necessary paperwork for your new home and get the keys to take possession!
If this home buying roadmap was helpful, and you'd like to receive a copy of our Home Buyer's Guide, leave us a comment on this blog post and we will send you a downloadable PDF version of our buyers guide!
If there's a specific topic you'd like us to cover, leave those in the comments for us to cover for you guys!
As always, thanks for joining in on this week's What The Heck Wednesday.
Get fired up for next week's topic!