Inaugural Tuesday's Tea With Cassie
Posted by Cassie Spears on Tuesday, August 31, 2021 at 12:00 PM
By Cassie Spears / August 31, 2021
Comment
TUESDAY'S TEA WITH CASSIE
Welcome to our newest Tuesday blog segment, starring Cassie Spears! Each Tuesday we will be spilling the tea about some of the current real estate market's hottest topics, tips, and questions. We will break down and dissect real estate myths, trends, market statistics, and predictions. This segment is meant to be fun, yet informal to keep you up-to-date, educated, and entertained will all topics of what the real estate market in Johnson and Tarrant County Texas is like!
Without further ado, let's get right to it with one of the most popular topics/mistakes that home sellers have been making lately and that is...
Should You Get Your Homes Value From Zillow?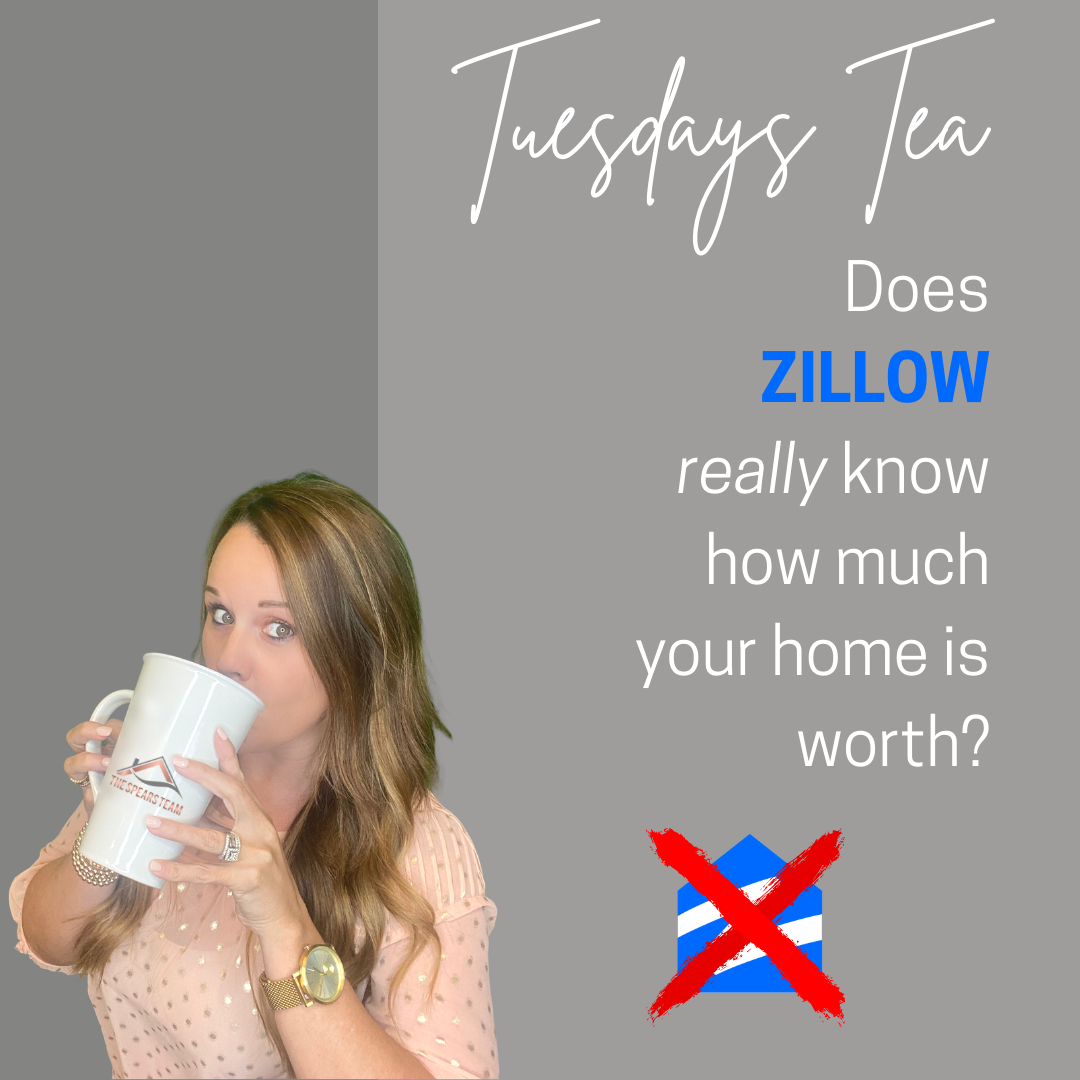 If you can't judge by the image above, NO! Zillow does not know how much your home is worth! And I'm here to tell you why:
Your "Zestimate" does not include all those beautiful updates you made on your home, so how are buyers supposed to know just how stunning your home really is? You deserve credit for the hard work you've put into your home, as well as all the hard-earned cash you've spent to keep your home relevant in today's home design trends.
There could be mistakes in property taxes paid and in tax assessments.
Data shows that Zestimates typical range of error is $18,000.00 for an unlisted home!
So, why work with an agent rather than Zillow?
Allowing a trusted and experienced agent who can personally tour your home and provide you with an accurate valuation of your home will benefit you tremendously. You need a REALTOR® who is familiar and hands-on with your community to be able to dictate the most accurate value of your home and all of its updates, and even the repairs that are possibly needed as well.
Listing Specialist June Piper-Brandon explains all this at greater length:
"Zillow will take all the homes in a zip code and bundle them together, and then average all the single-family homes with about 1,500 square feet and 3 bedrooms and 2.5 bathrooms together - and that's the value they give.
So, for example, in 21060, a zip code in Anne Arundel County, they will take a 1032 square foot rancher - some have a basement, some don't, but Zillow doesn't differentiate and one street is really nice with desirable homes, one has several distressed properties and the homes aren't as well kept but again - Zillow doesn't differentiate.
So, your home is on the nicer block, but the value will be lower because it is compared to others on a worse block, whereas the ones on the worse block are higher but in fact, the value is lower and less desirable. That's why you need a REALTOR® that is familiar with the demographics and dynamics of the community, rather than a computer on the other side of the country."
---
How Can You Get the Most Accurate Information on Your Homes Value?

The most valuable resource for getting the most accurate valuation of your home is by requesting your home's Comparative Market Analysis(CMA) from our team. Your CMA from us will take into account every nook and cranny in your home, with all the updates, all the outdated possibilities, and each speck of dust you missed in your last deep clean (kidding...kinda ;)).
To get the best possible idea of what your home could sell for in today's real estate market, visit our CMA request form and we will hand-deliver your FREE Comparative Market Analysis to your doorstep and also email you a digital copy to view while you're on the go!
---
If you've made it this far, stay tuned for next week's Tuesday's Tea blog post and leave any comments or questions you may have pertaining to this blog post right here and we will respond directly to you!
See you all next week for another LARGE cup of tea!