More Bang For Your Buck
Posted by Cassie Spears on Tuesday, September 21, 2021 at 11:10 AM
By Cassie Spears / September 21, 2021
Comment
More Bang For Your Buck With Home Improvements
With home renovations, the saying goes "the devil is in the details." But which details give you the most bang for your buck? That's what we're going to find out! In this blog post, we will discuss 5 home improvements that offer a great return on investment. If you're looking for home improvement projects to take on next, these are perfect options.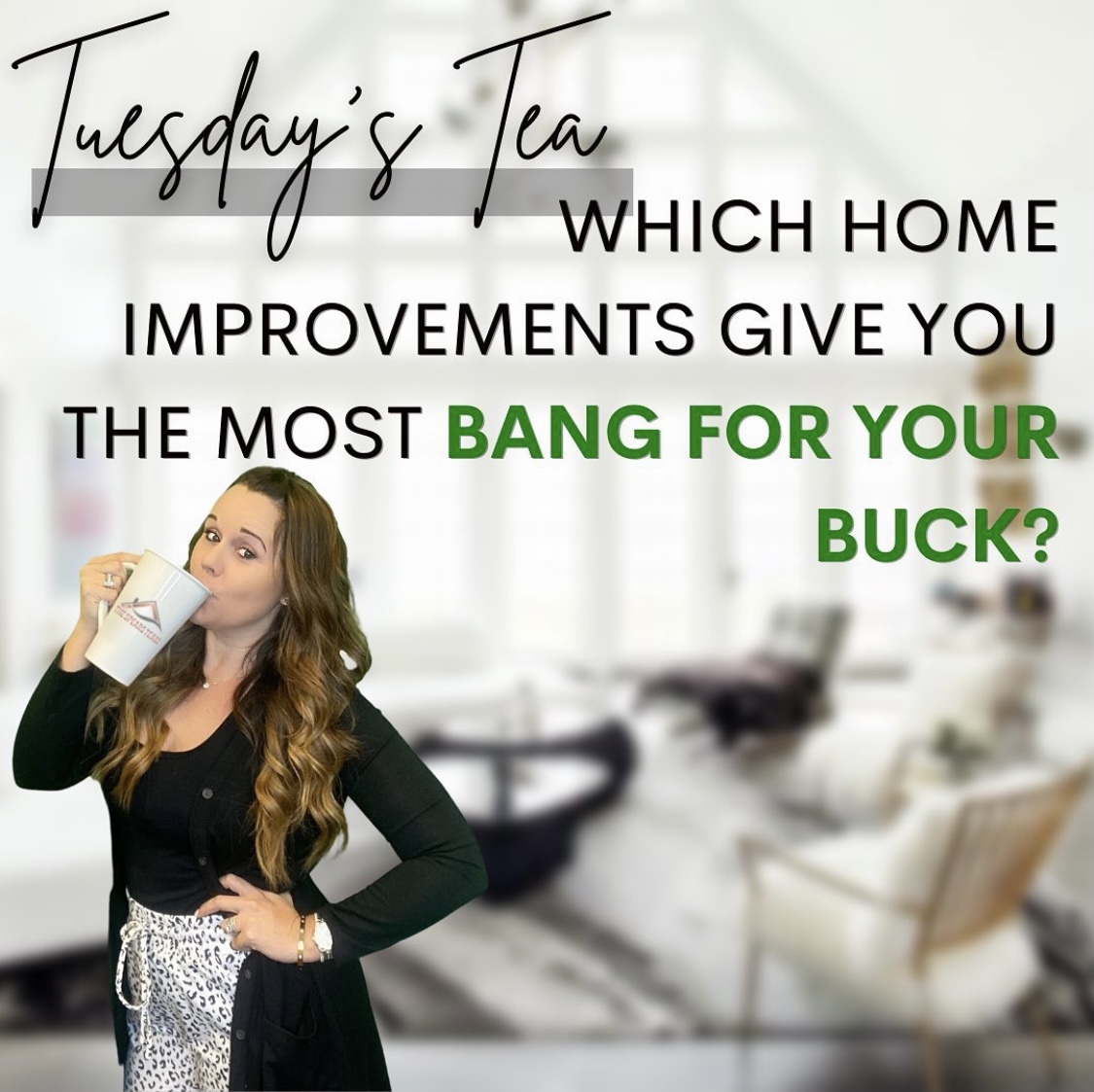 The top home renovations that give you the most bang for your buck include flooring, kitchen updates, bathroom updates, interior design, and curb appeal/landscaping. Let's take a look at each one in more detail below.
Flooring
Replace your flooring, modernize it, or have it professionally cleaned or restored. When they're vacuumed, carpets appear plusher and more inviting. Also, don't forget about the front and back patios, pressure washing the patios adds a nice clean touch!
Kitchen
Paint cabinets or replace them and put in updated countertops or refurbish them using paint, epoxy, or any kitchen-grade sturdy countertop peel and stick or a Rust-Oleum countertop transformations kit.
Bathrooms
Replace old or inadequate light fixtures with more efficient ones, update vanity mirrors and vanities, retile or add luxury wood-look tile or vinyl plank flooring. If you replace the vanities, you'll most likely also need to replace the sink bowls. Choose sink bowls with a classic design that may be customized to fit current styles later on. Resurface showers and tubs as a more cost-efficient option or go all-in with brand new tubs and showers. Adding updated toilets also gives a bathroom a brand-new look. And lastly, for an easier update without all the Tim Allen Home Improvement renovations, REPAINT! You may repaint the walls, use peel and stick wallpaper for an accent wall, and add some floating shelves to your bathroom, and it will still look different!
Interior Design
Modernize your home with simple updates like brushed bronze or matte black light fixtures. Swap out your doorknobs, handles, and hardware with options that best accentuate your home's design and features. For example, if you love a brushed bronze finished hardware stick with that same finish throughout the room. Pro tip: If your room (kitchens in particular) has less than 20 drawers and doors, it's safest to stick to two types of hardware. For fewer than 12 doors and drawers, it's best to use only one style of handle all over.
Curb Appeal & Landscaping
Replace or paint your garage door and exterior trim of your home, including your gutters. New lighting around the exterior using bright white LED bulbs for maximum visibility at night and the longest lasting and most energy-efficient experience. Update, paint, or completely replace your front door. If you're still putting that old single-pane with non-energy efficient windows to work, odds are, you need to replace your front door. This is one of the most overlooked ways to give your house a major facelift.
Weed out your flower beds as soon as spring begins, remove old mulch or rocks, add some weed-preventer like Ortho Ground Clear Weed and Grass Killer, and replace your mulch. Depending on the season, you could also add flowers or shrubs, place some decorative planters or hanging baskets with faux (or real) plants on the front porch, and reseed your lawn with fresh grass seeds.
If you've made it this far, you're a real MVP! Reading can seem just as tasking as doing these home improvement projects for some people (where my business owners at?!). But if you're like me, sometimes you need an extra-long blog post like this one to remind you of all the buffer things that actually DO make a huge difference. That being said, it's important to choose the one(s) that come with the most benefit to you. Focus on remodels and renovations that will ultimately boost your property's value rather than decrease it.