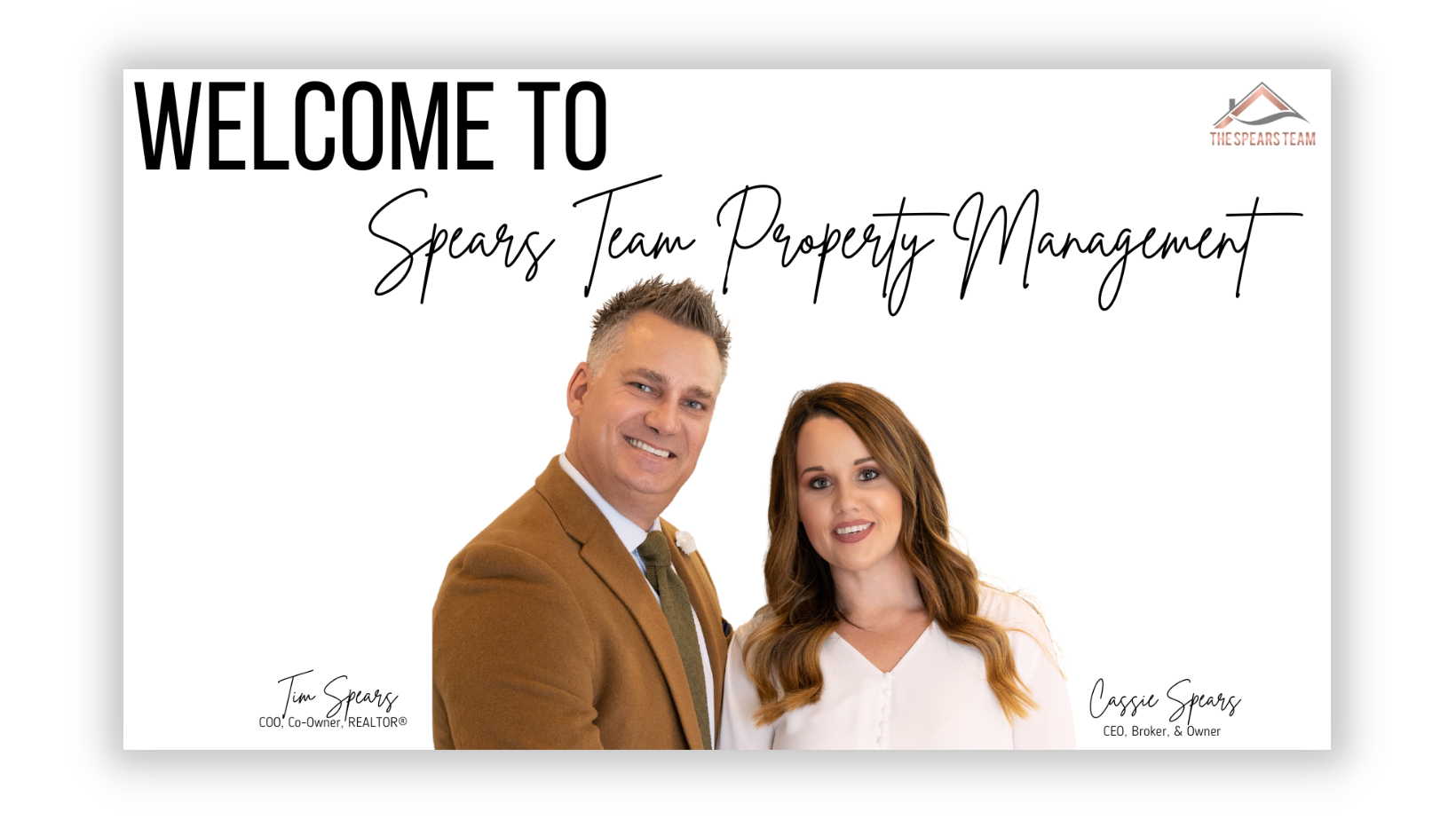 The Spears Team is honored to have the opportunity to manage your investment property(ies) for you, and we thank you for putting your trust in our team to make sure that your investment becomes a truly valuable asset. Now that you officially have a property management agreement with our team, this page is a quick overview of some key points within the agreement you have recently signed or received. This overview will explain the most commonly asked questions that you may find yourself asking.
---
Will repairs over $300.00 be scheduled without your approval or knowledge?
Our team will not schedule any routine or non-emergency repair costing more than $300 without first reviewing this cost with you and getting your approval to move forward. If the necessary repair is determined an emergency, and the repair is required in order to protect the property or the health of the tenant(s), you are in agreement with Spears Team Property Management making the repair without your prior consent.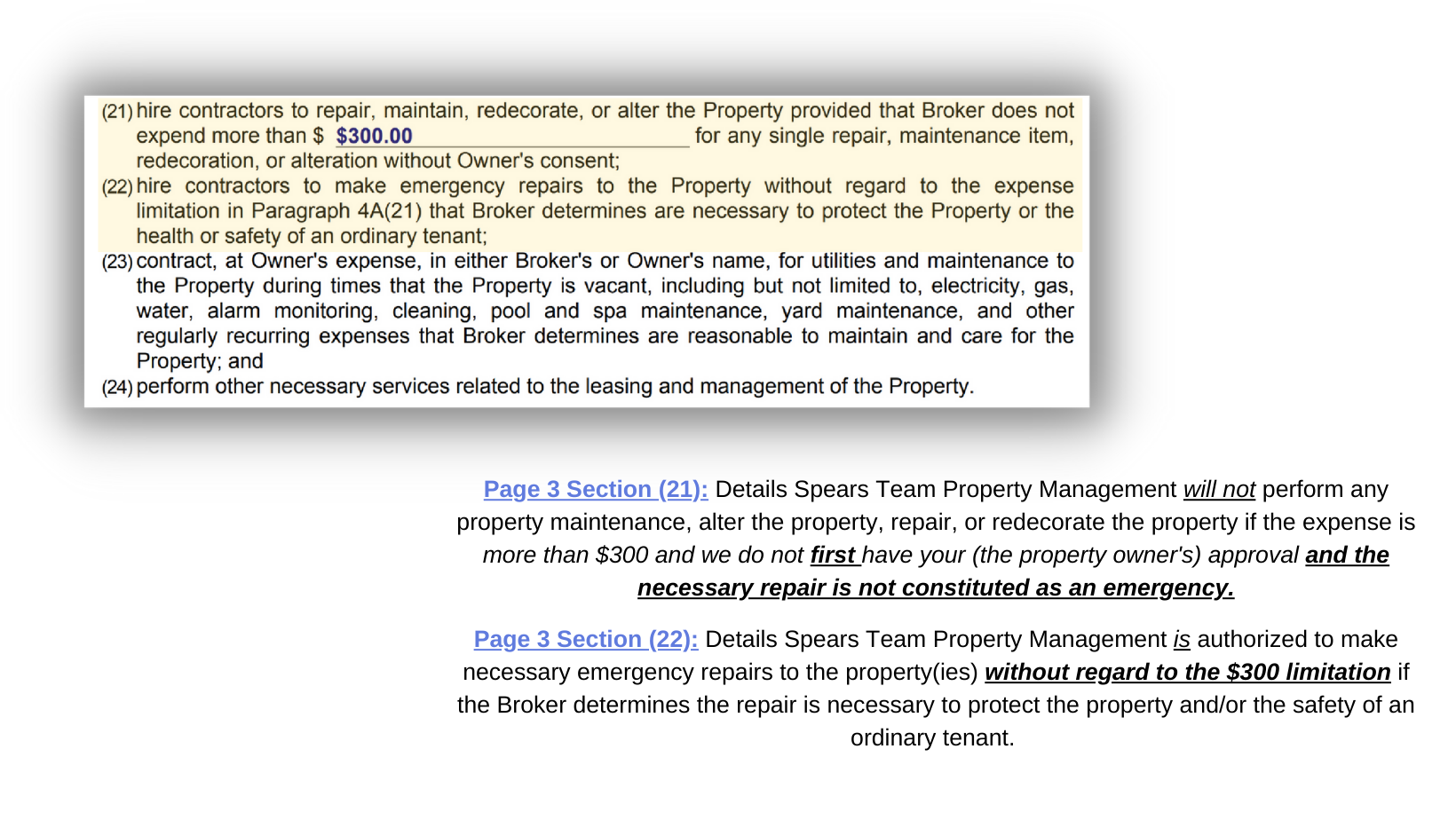 ---
Why Do I Need $300 in Reserve Funds, and How Often Will These Funds be Needed?
Reserve funds are deposited into the Spears Team Property Management Trust. These funds are deposited in the event that the Spears Team has to pay for expenses related to leasing and management of your property(ies). Reserve funds to be deposited are $300 per property.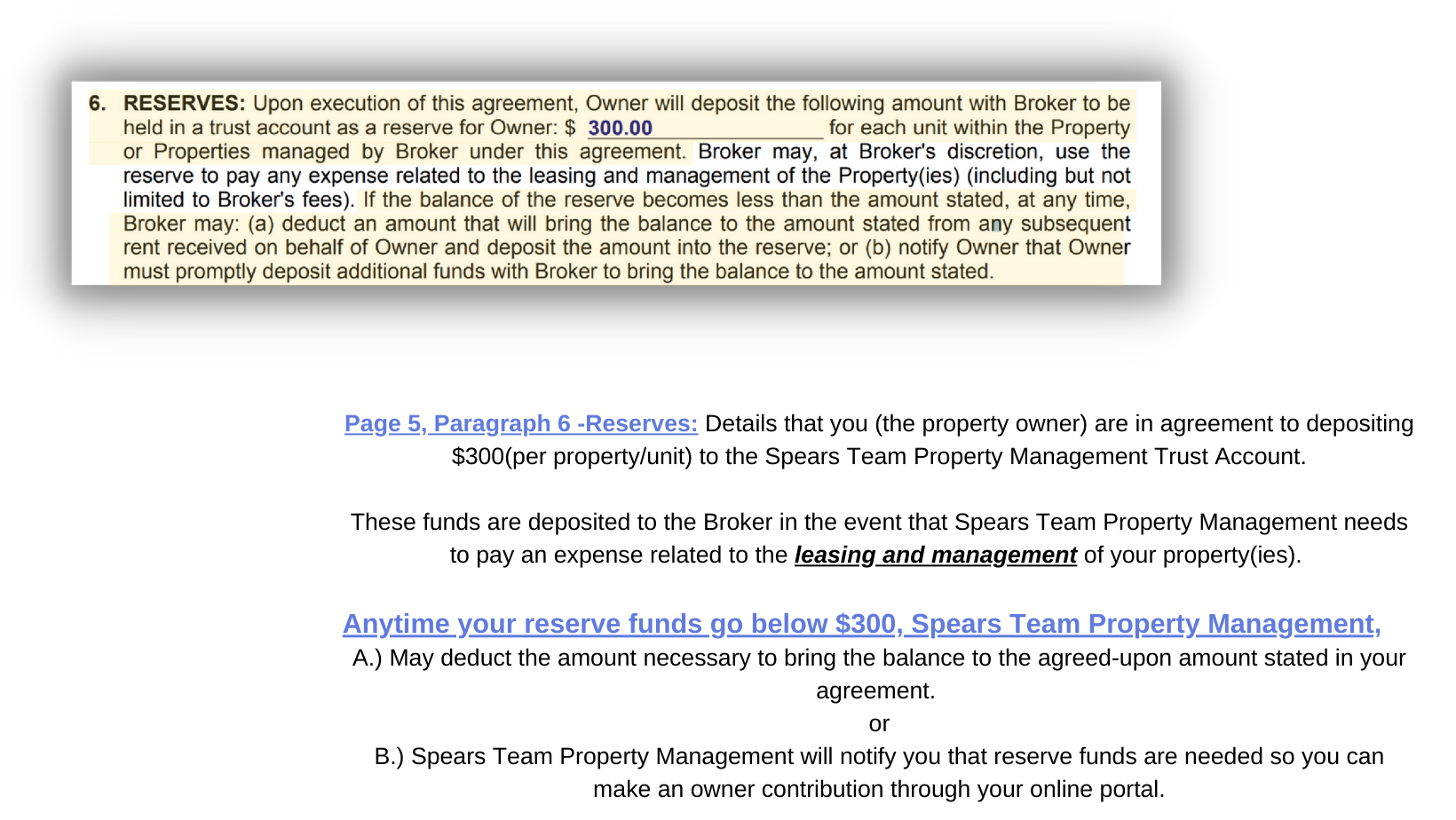 ---
How Much Insurance Am I Required to Have Per Property?
You should have your property(ies) insured enough to cover the replacement cost of the property in the event of a loss. Your insurance policy should have Spears Team Property Management LLC as co-insured/additional insured.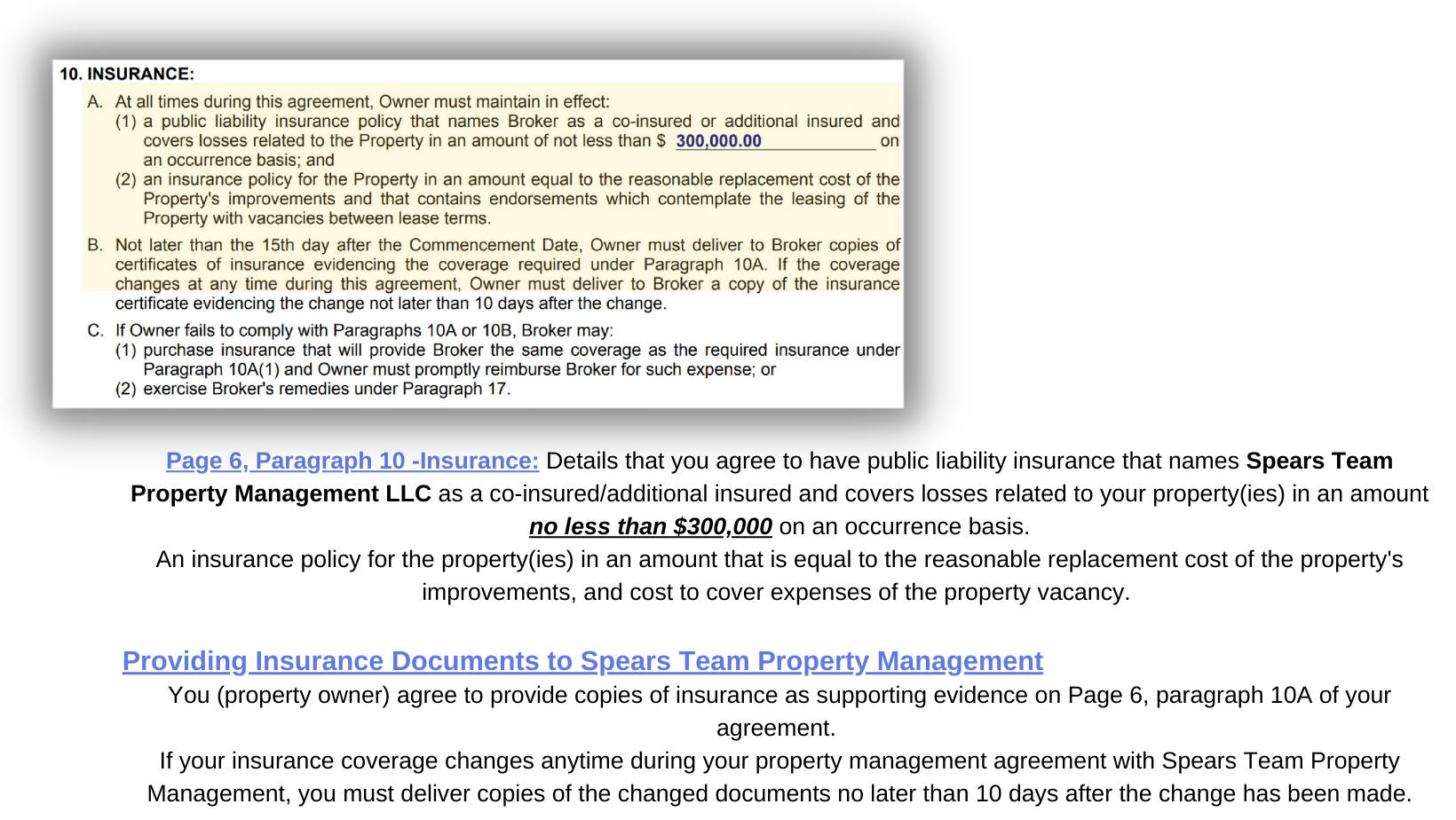 ---
What is the Difference Between The 10% and 50% Fee?
The difference between the two fees is that you will only ever be charged 50% of the first full month of rent whenever a new tenant takes occupancy of your property. Aside from that, you are only ever charged 10% of each month's rent. You will never pay 50% of a monthly rent amount during the term of one lease. You are not charged 50% of a month's rent in the event that a tenant extends their lease. You are only ever charged 50% of the first full month when a new tenant(s) signs a lease for the first time at the property.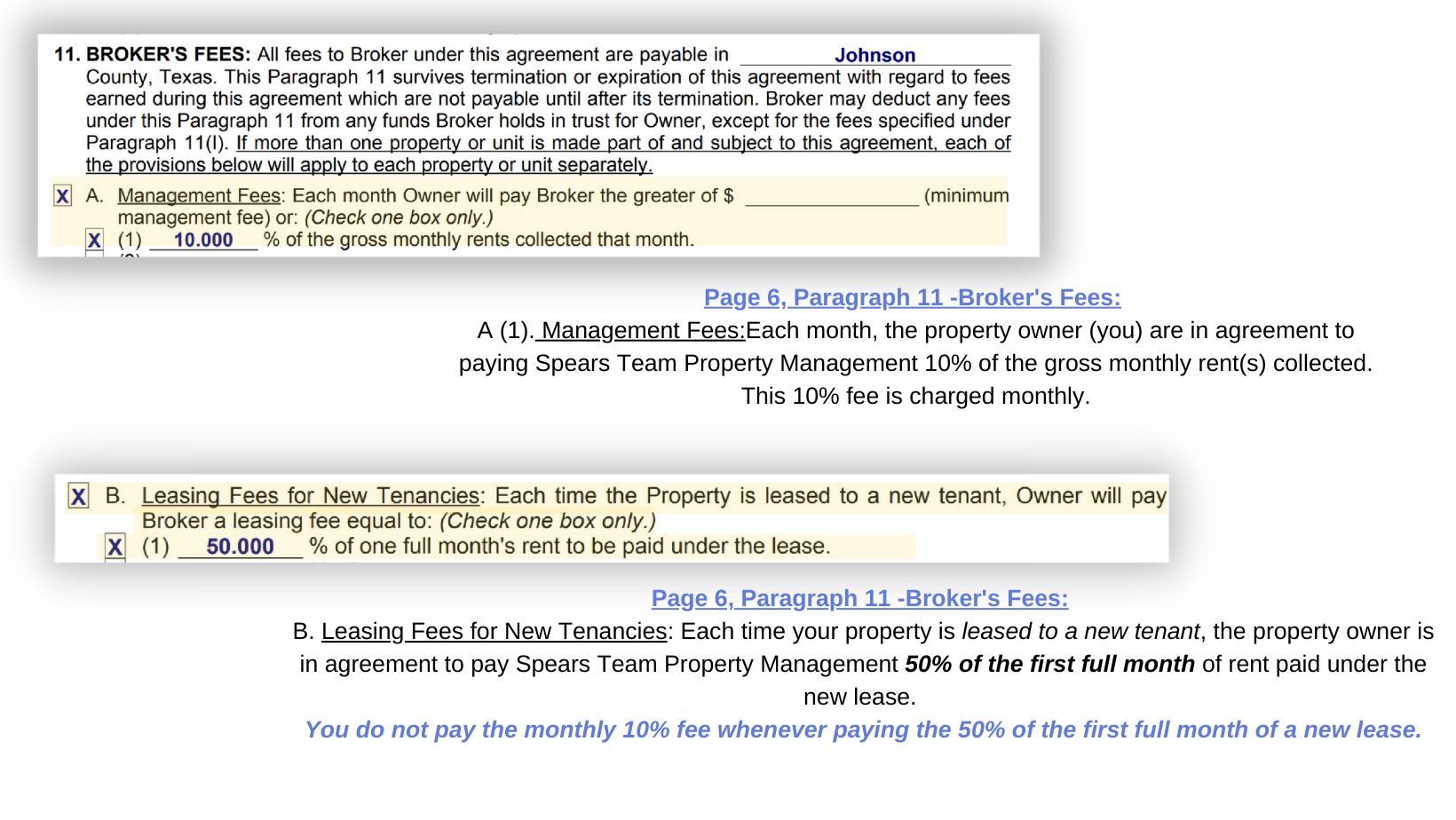 ---
Activating Your Online Owner Portal
Once all documents are completed, you will receive an email invite to begin setting up your owner portal.
Your online portal is where you will be able to:
View and Download report packets
View completed property inspections
Securely contribute funds to the property via eCheck(free) or credit card(online processing fee applied) if your bank accounts are enabled for online payments.
View and download documents
Provide Spears Team Property Management to electronically send you 1099, and download a copy(ies) of your 1099 when it has been shared with you.
---