Tenant Information Guide
At Spears Team Property Management, we provide unfailing attention to detail and nonstop communication with our tenants. Our team works diligently day in and day out to provide seamless leasing experiences by having an open line of communication with our tenants whenever and however you may need to reach us.
As a tenant with us, you have the convenient availability to access your custom online portal to submit repair requests, report any issues that may arise, and even pay rent all within one platform. If you lease your home from the Spears Team, you will find that our track record for communication, responses to repairs and emergencies, and answering any questions or concerns you may have is unmatched.
Click here to access your online portal 24/7 from anywhere you may be. In your portal, you also have the availability to upload or even purchase home renters insurance. By uploading your renters' insurance policy, you will never have to stress about the possibility of misplacing your insurance documents.
---
No-Contact Rent Payments
We understand that life is busy and you won't always have the time to enter the office to make your rent payments. That's why we offer the secure option of no-contact, no-entry rent payments through our rent dropbox. It's recommended that you make payments using our dropbox during weekdays as we periodically check the box Monday - Friday throughout the day to ensure no rent payments are left overnight or through the weekend.
If you make a dropbox payment during the weekend, please message us using your online tenant portal to let us know so we can plan accordingly to come to remove it and prevent it from sitting over the weekend.
Weekend payments are often necessary as we completely understand that day-to-day life tends to be prioritized with other tasks but please keep in mind that inclement weather may also occur, thus, requiring you to void your cashier's check/money order and replace it with a new one.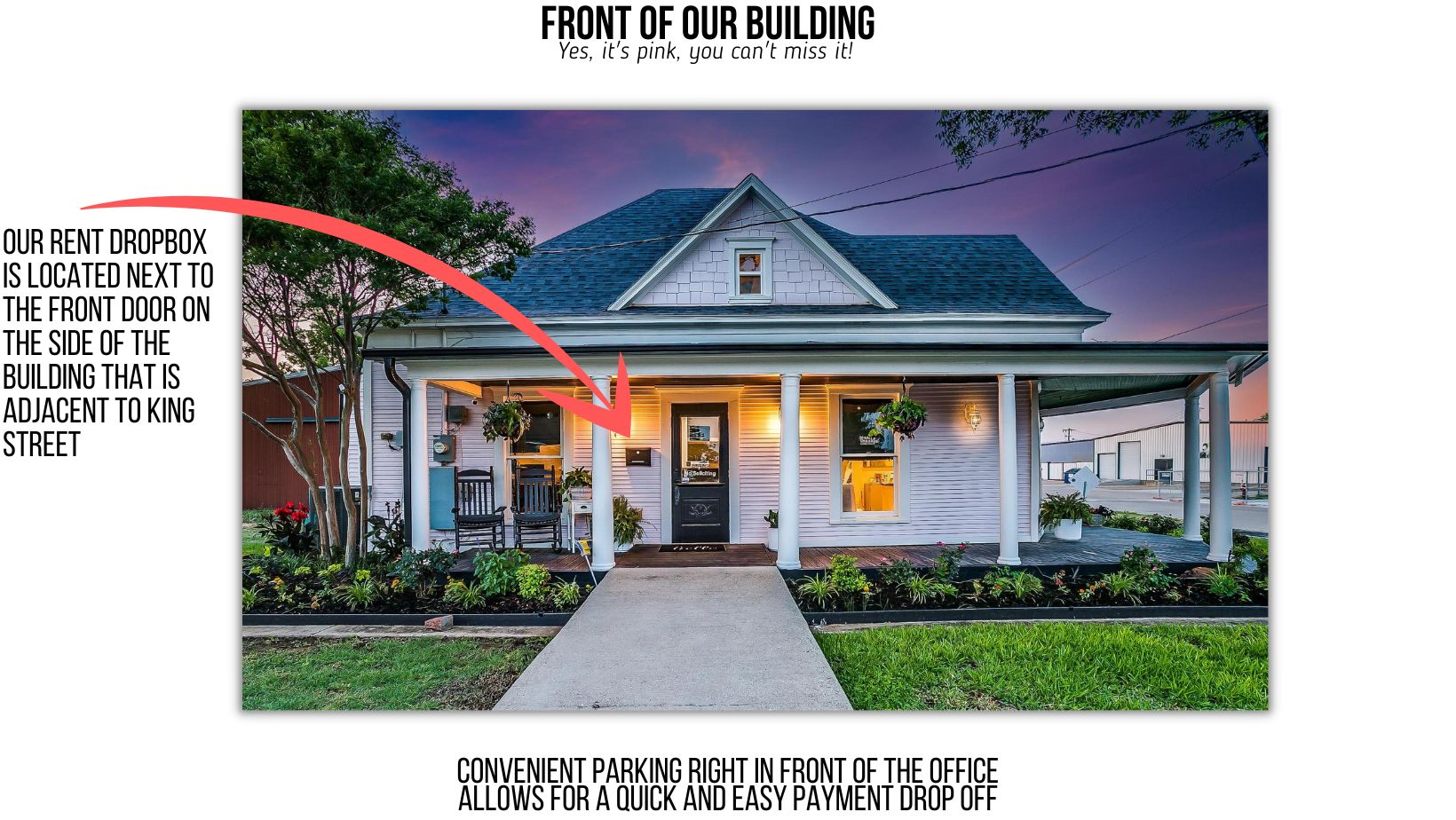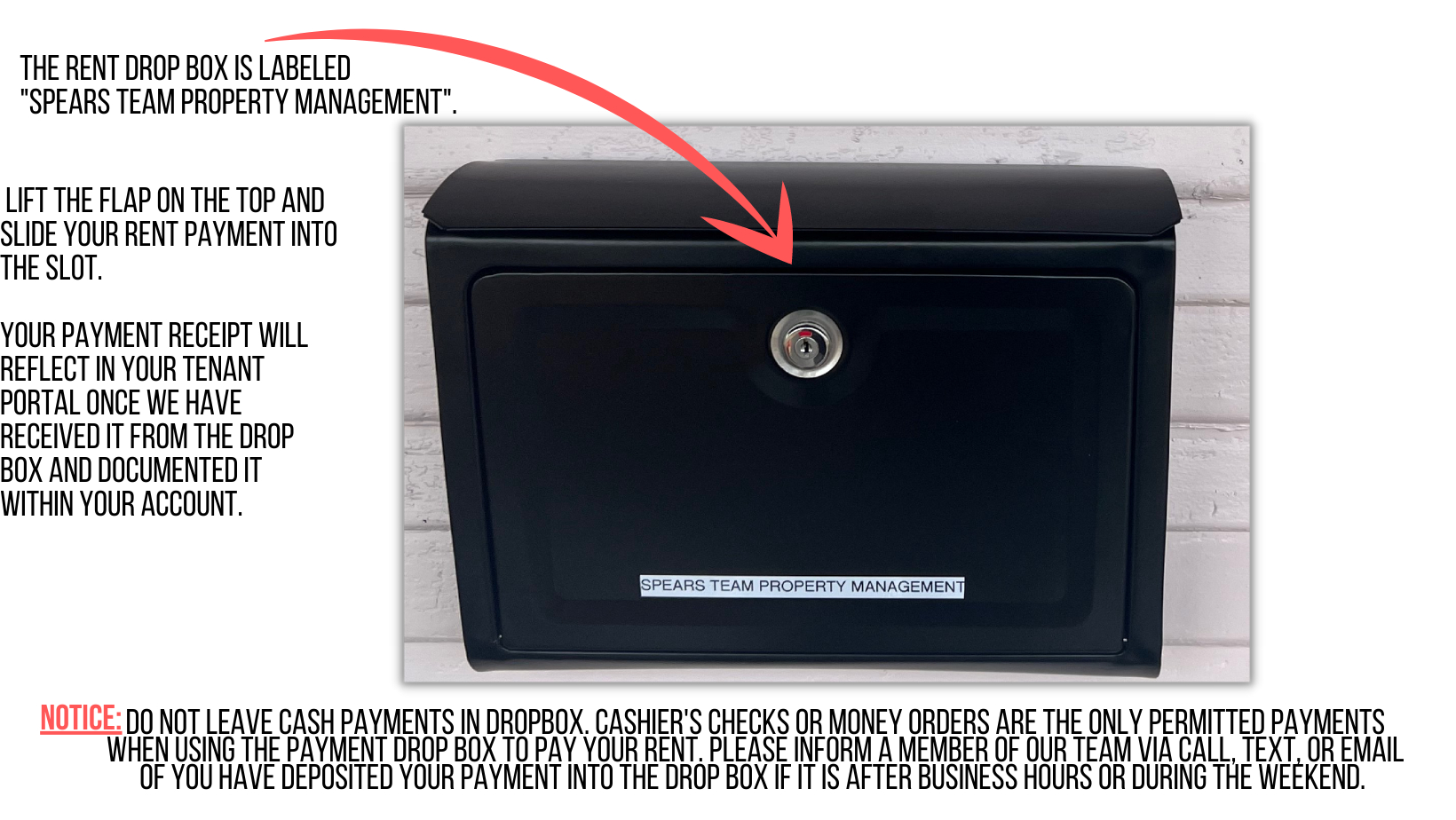 Accepted rent payments for our dropbox include cashier's checks and/or money orders payable to Spears Team Property Management. Your rental address and name are required to be listed in the "memos" section on these checks. Personal checks and cash payments are not accepted, you will be contacted by a member of our team upon receiving any personal check or cash payment to come to retrieve this from our office and make your rent payment in an acceptable form of payment.
Tenant Portal Guide
Below you will see images of our online tenant portal option detailing the features of online rent payments, checking your current rent balance, maintenance requests, shared lease documents, and the option of purchasing or uploading your renter's insurance policy information.
Check Your Balance & Make Rent Payments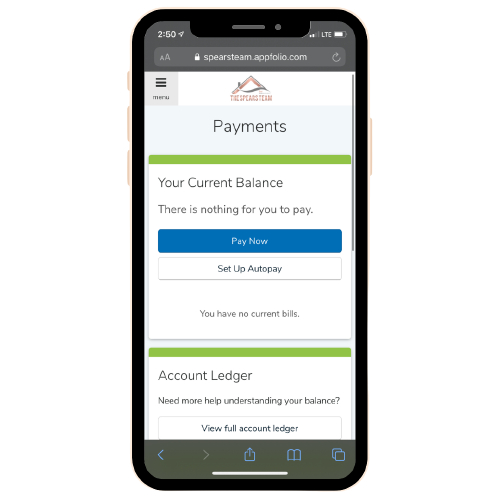 In your portal, you will see your current balance that is due and have the option to make a payment, as well as setting up automatic payments for your monthly rent payments to be automatically drafted each month. The Autopay option eliminates the possibility of forgetting to make a timely rent payment (it happens, we totally get it), and helps you avoid accruing late fees.
Below your account balance, you are also able to view your full account ledger. In your ledger, you have the availability to view and confirm each and every payment you have made during the duration of your lease.
Maintenance Requests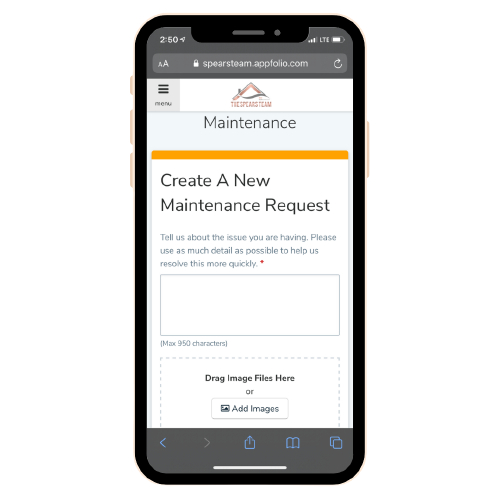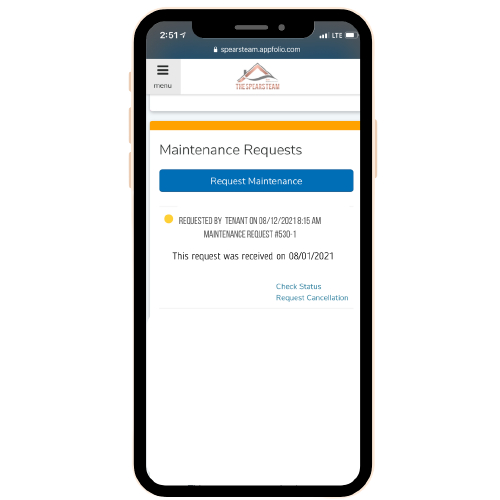 When it comes to submitting maintenance requests, the process has never been easier. You will simply state what issue(s) you are experiencing and upload any images if necessary and submit them to us. Once you submit a maintenance request, a member of our team is alerted. As soon as we receive your request, we begin contacting our contractors and scheduling a time that best fits your schedule to make the necessary repair(s) in a timely manner.
Your Lease Documents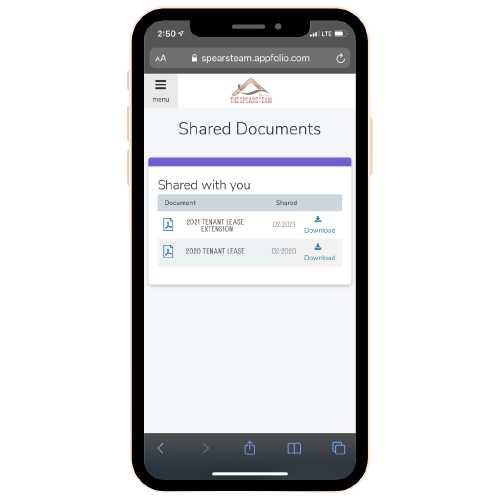 We share a digital copy of your lease and all correlating documents with you through your online portal. Upon moving into one of our properties we also provide you with a paper copy of all of these important documents but, we constantly better our systems to accommodate a simpler way to serve our tenants. In today's day and age, everything is digital, and what better way to keep track of important documents than to have them right in the palm of your hand on your mobile device or stored safely within the convenience of your home computer?
Renters' Insurance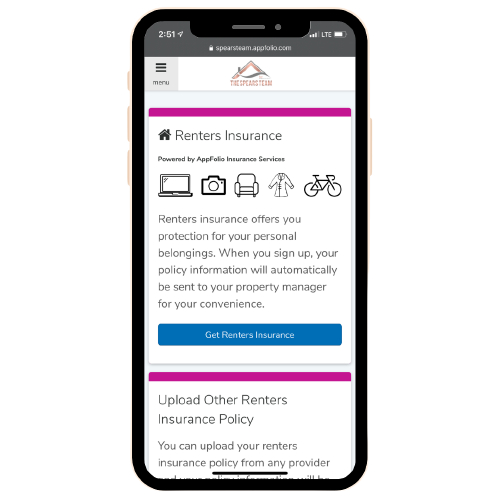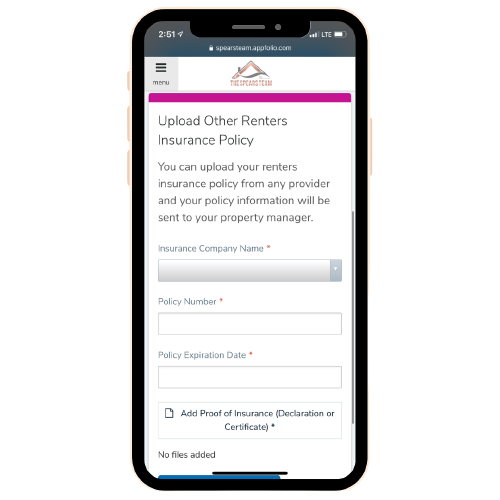 Renters' insurance is a crucial thing to have. That's why we offer the availability for you to shop for affordable renters' insurance policies within your tenant portal. If something unfortunate were to happen during your lease, you'd want renters' insurance to fall back on to assist with replacing your valuables and to cover you in the event of unexpected circumstances(theft, fire, sewer backup damage). Your insurance policy will pay you for lost or damaged possessions. It can also help protect you from liability if someone is injured on your property.
If you have renters' insurance that you have purchased through your trusted resource, you can simply enter your existing insurance companies name, policy number, expiration date, and upload a digital copy of the documents for safekeeping.
If you upload or purchase your renters' insurance within your portal, as your property manager, we will be notified of your document upload and will also be able to keep your renters' insurance policy on file for you as well.
Late Rent Payment Policy
Our company has a strict late rent payment policy which goes into effect on the 3rd day of each month at 12:00 AM (midnight of the 3rd day of each month). To view more details about our late policy, click here.
I have been using this establishment for well over 10 years and the service has been nothing but amazing. They are always professional and caring of the needs of their clients. I am a very satisfied customer.
Denise Jones
Cassie was my agent when I bought my rental house in 2017. She has been my property manager since that time. Cassie is professional and quick to respond to any questions or concerns. She knows the area and has made sure my rental house is occupied since I purchased it. I can't say enough good things about Cassie and her services. I highly recommend her!
Sandy Gravenor
Cassie promptly responds to any questions or issues with our rental property. If you are looking for a realtor or property manager, look no further. Cassie and her team are the best in the business.
Mary Levi
Cassie and her team have been managing my rent houses for several years. She has always been very professional and helpful and her team gets any job done in a quick and efficient manner. I highly recommend!
Marjorie Riding
Cassie Spears Team does an amazing job advertising and finding a tenant for our property! I look forward to continuing to work with them!! Check them out! They won't disappoint!!! Thanks, Cassie Spears Team!!!
Sophia Packer
Cassie and her team are great! I've worked with her since 1997. Cassie has managed my property in Burleson, TX. She has been very prompt in getting back to me through phone or e-mail. She communicates well on the repairs that need to be done and gets everything fixed very promptly. She and her office are highly professional, which is quite refreshing!
Shelly Cloughley
Cassie Spears and her team are exceptionally professional, friendly, and quick to respond. I highly recommend. We love the Spears Team!!
Greg Beard
Cassie Spears was my property manager for 2 of my rental houses for years. She was always very professional, responsive and well informed. It has been a great pleasure dealing with her. Thank you.
Bud Martin
Cassie Spears Team is always responsive to our reports or concerns in regards to anything property-related. We've heard horror stories from other folks who rent, but we have always been able to access them and they have always been appropriately responsive!
Jimmy Gibson
Cassie and her team go above and beyond for their clients! We are so thankful for her and we know who to turn to when we're ready to sell or buy again.
Bonnie Mays
Cassie Spears Team is always quick with my work orders and responding to my work orders and questions that I have. I've been in my rental for almost seven years and hate the thought of even changing property managers. Thank you for all you do for me!
Linda Gonzalez
Cassie has been awesome in every way. She is professional and knowledgeable when it comes to managing a property or finding new tenants. Just step back and know that Cassie and her team will take excellent care of your property. We couldn't be happier with the services we have received!
Phoebe Westman
The Spears Property team have helped me sleep a little easier at night taking care of my rental for over a year now. They were able to get my house ready for the market, write the lease agreement, and effectively communicate anything necessary between myself and the tenant for the months that have followed. I don't know how they do it, but I'm pretty sure the tenant is just as pleased with Spears team as I am. Everything is done fairly and their prices for the amount of work they do is fantastic. I am a customer for life!
Tommy Olguin
Cassie found renters for my property in Arlington in 3 days. They have been leaving there for 2 years and just renewed the contract for their 3rd year. Cassie takes time to select renters to make sure they do not create problems for the owners. I have peace of mind and do not have to worry about the renters. I have not heard from my renters since they started living in my property. Great work! Thanks, team!
Anselma Perez
Cassie and her team were absolutely phenomenal during my house hunting venture. Not only were they great property managers, but went above and beyond during this crazy housing market! Cassie got me into the right home with her knowledge of the market. Whether you're renting or buying with her, you won't go wrong! She takes pride in getting a positive experience for her clients. Y'all rock!
Paul Grimes